What is a "Combo Organ"
It's any of a family of portable, electronic organs built during the 1960's and 70's, and used primarily by rock bands of that era. They are known for their generally thin, electronic sound, detachable or fold-up legs, and brightly colored tops and switches. Well known songs featuring the Combo Organ sound include "Light My Fire" (The Doors), "House Of The Rising Sun" (The Animals), and "96 Tears" (Question Mark and the Mysterians). It may be easier to describe what it is not.
A combo organ is not:
A "chord" organ - Magnus, Estey and a number of "suitcase", "tabletop" or "air" organs fall into this category. Chord organs are powered by air, and the sound comes from reeds, like an accordion. I do not care at all for the sound of chord or reed organs. If you think a Magnus chord organ sounds like a Farfisa or Mellotron, visit my Magnus page for more info.

A "synthesizer" - either the old analog synths - Moog, Arp, etc, or the newer ones, either the high-end Ensoniqs, Alesis, and Rolands, or the low-end Casio or Yamaha "keyboards" that you get a Wal Mart. for $100 or so. Many of the better ones will have a "combo organ" or "cheesy organ" sound in their arsenal, but I've never heard one that came close to the real thing.

Any kind of organ that is intended to duplicate the sound of a Hammond tonewheel organ and Leslie speaker. The Korg CX-3, Viscount D-9, and Roland VK-7 (Sorry, Roland, the VK-7 is NOT a combo organ) fall into this category. These are nice instruments, but cannot reproduce the sound of a true combo organ. One possible exception: the Voce Micro-B, which is actually a MIDI module, has a Vox Continental and Farfisa Compact setting. I understand that both are excellent, though each is a single, non-modifiable setting. I think the older Voce DMI-64 also had some nice combo organ sounds.

Any organ that has a cabinet with a largely wood grain appearance. A wood console or cabinet is normally an immediate disqualification - regardless of what it sounds like (although I've made a couple of exceptions to this rule elsewhere on this web site). Some combo organs have small areas of wood grain-like stuff - that's all right, as long as the bulk of the organ appears to be made of plastic or covered in tolex or other vinyl-like covering (Vox organs are covered in "Vynide").
Perhaps a pictorial comparison will help:
This is a combo organ: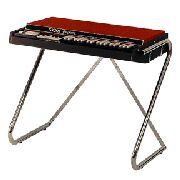 (Vox Jaguar)
This is not:
(Magnus Chord organ)
This is a combo organ:
(Farfisa Compact)
This is not:
(Korg CX-3 Hammond/Leslie "emulator")
This is a combo organ:
(Gibson G101)
This is not:
(Yamaha DX9 Synthesizer)
This is a combo organ: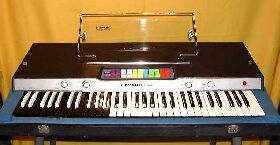 (Howard Combo)
This is not:
(Hammond B3)
For additional, somewhat related, reading, check out this interesting document on a court case involving "reclassifying 5 of 38 electronic musical synthesizer models, imported by Casio, Inc" Note the frequent mention of Montgomery Ward. (thanks to Lenny G. for this link)