Others
Ok, here's an odd lot of models that didn't really warrant their own pages. There's some real beauties here, though.
---
Until recently, I had only seen the Bauer name in Peter Forrest's A-Z book, described simply as "Combo organ with or without speaker and amp in lid". Well, many thanks to my friend Carlos in Argentina, who unearthed some old Argenteniean music magazines from the 60's, and found some ads for Bauer organs. Unfortunately, they're all in Spanish, and my Spanish (after two whole years in high-school) is REAL rusty. Anyone care to provide a translation?
(These first three were all part of a single ad. Click on any one to see the whole ad)
| | | |
| --- | --- | --- |
| | | |
| "Combo". Looks like a relative of the Teischords | "Madrigal" Look at the stand! It's identical to the one on the "Guild" organ | "Chico Special" Check out that cool TV-tray stand! |
| | |
| --- | --- |
| | Whoa! Look at THAT! It's a Fender Starmaster! Click on the picture to see the whole ad. Looks like there was also a "Mignon" model, but I don't have a picture of it |
| | |
| --- | --- |
| | Click on this picture to see the entire shot of Miguel Abuelo with what's probably the "Combo" model. This one was from 1969. |
---
Corsair
Single, 5-octave manual organ.
Controls:
Tabs: Percussion On/Off, Percussion/Repeat, Percussion/Repeat 5-1/3', 4', 2-2/3', 2', Vibrato On/Off
Sliders: Volume Flute, Volume Reed
Drawbars: 16', 8', 5-1/3', 4', 2-2/3', 2'
Knobs: Repeat rate, Vibrato velocity, Vibrato intensity
According to the owner of this one, the oscillator boards look just like the USA version of the Vox Continental boards. It is set up like a Continental, with separate variable Flute and Reed voices, and drawbars to control each rank, albeit with a bit more control than the continental (6 separate ranks, no mixture).
Tiger/Tigermate
The Tigermate and the Tiger are identical except for the rhythm unit, which adorns the only the Tigermate.
The bass section comprises the first 20 keys (C-G) on the left, but there are no markings to indicate that. The
"drawbars" are really just on/off switches - they only pull out about 3/4". The vibrato on the one I played was very slow - it must have needed adjustment. There's no line-out jack, only a headphone jack, but if you plug that into an amp it works pretty well.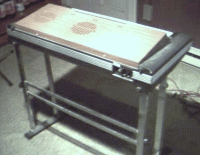 Controls:
"Drawbars": Mello, Reed, Brass, Flute, Bass Chorus, Vibrato

Knobs: On/Off Volume, Bass Volume, Tone, Rhythm Start/Stop, Rhythm Level, Rhythm Tempo

Rhythm buttons (Tigermate only): Waltz, Foxtrot, Western, Polka, March, Rhumba, Bossa-nova, Cha-Cha, Mambo, Rock1
Here's a short description from a happy Tigermate owner (thanks, Marty):
"It has two 8" built in speakers that mount on the bottom-inside that face down with grill slits on the bottom and top so the sound travels through the top quite a bit. It kind of envelops the organ in sound. The rear panel has a 1/4"headphone jack and a 1/4"pedal jack I assume for volume control (it didn't come with a foot pedal and I haven't tried a standard guitar volume pedal yet). Also on back are the power cord plug and fuse port. Sides and bottom are covered in black tolex and the top cover and keyboard cover are simulated wood grain vinyl. Now......how does it sound................ to me this organ has a good, useable sound. Not quite as brite and cheesy as the Rheem or the one late model Farfisa I've heard and really not close to the sound of the Penncrest which to me has more of a church-like sound. It's kinda somewhere in between the two. Possibly like some of the cheaper home grandma organs I've heard. Nevertheless a very pleasing organ sound. Rhythm sounds are very reminiscent of the grandma organs, but still cool. Vibrato is a set, moderate to slow speed and sounds decent. The bass chorus switch kinda thickens or possibly adds an octave to the bass sound, as opposed to a moving chorus effect. Oh, and by the way, with the bass volume up the range of the bass extends 1-1/2 octaves and with bass volume down the treble side extends the full 4 octaves."
Tiger Duo
| | |
| --- | --- |
| | Looks like just what you'd expect - a dual-manual version of the Tiger. Additional features include Chorus, Percussion, and Repeat. I'm hoping to get additional information on this one from it's owner. |
Super Tiger 61
I don't even know where I heard about this one, and I don't have a picture, but I got the following description from the owner of one (which I won't even attempt to condense at this time):

The organ is black and grey (plastic cover) with chroming steel legs. Both left legs and both right legs are united, and there's a speaker on each one. The speakers are conected by two cables from the low side of the organ. As the names indicates, it has 61 keys, from C to C. The first 2 octaves (C1 to B2) are grey naturals, and the other 3 octaves are white naturals. All the accidentals are black. The controls are, from left to right:
1) Power switch: on/off power with a light indicator.
2) Volume slider: set the main volume for all the keyboard.
3) 4 drawbars called "GREAT ORGAN": 16' - 8' - 4' - 2' 2/3, for the white zone.
4) 2 drawbars for (and called) "ACCOMPANIMENT": "FLUTE 4'", "STRINGS 4'", for the grey zone.
5) 1 drawbar for (and called) "BASS VOLUME", for the grey zone (monophonic).
6) 8 keys for "EFFECTS": "BASS PERCUSS" (red color) (it eliminates the bass, only sounds the percussion, but it sounds strange, like a shot, I think it doesn't work right) for the grey zone. "BASS SUSTAIN" (red color) ads sustain for the bass, for the grey zone. "SLOW VIBRATO" (green color) for both grey and white zones. "FAST VIBRATO" (green color) for both grey and white zones. "SHORT PERCUSS LONG" (cream color) for the white zone. "4' PERCUSS" (cream color) for the white zone. "2' 2/3 PERCUSS" (cream color) for the white zone. "SUSTAIN" (orange color) for the white zone, in synth words should be "release" instead of "sustain".
7) "RHYTHM VOLUME" knob.
8) 10 rhythm buttons, from left to right (always...) 3 green color, 3 cream color, 4 red color (I don't know if there is a reason why each rhythm deserves those colors...) "WALTZ" - "TANGO" - "MARCH" - "SLOW ROCK" - "SWING" - "RHYTHM AND BLUES" - "RHUMBA" - "CHA CHA" (it should be cha cha cha) - "SAMBA" - "BOSSA NOVA".
9) "TEMPO" knob.
10) Accompaniment zone: (the grey zone) - "ACCOMP" button: turns on/off the accompaniment. It can work alone, whitout the rhythm, you can play a chord, let say C, and it will sound a chord pattern with the notes C, E, G on the flute 4' and/or strings 4', and an alternated bass pattern of notes among the extremes of the chord played, (in this case C and G), if you play D chord with these keys: A, D, F#, A, the bass pattern will be among the low and high A pressed keys. - 2 buttons called "KEY", the first (always l to r) "DELAY", the other "INSTANT". (As I not use de accompaniment system, I must learn how these buttons works) - "RHYTHM INSTR" button: turns on/off the rhythm. (it sounds a little bit funny, like a steam train)
11) a main accompaniment "ON/OFF" button (whith a light that follows the rhythm when it's ON)
12) A "PIANO VOLUME" slider. This is a complete separated feature, that only works on the white zone, you can mix it with the "great organ sounds".
Misc.:
When you play the grey zone (without accompaniment system), if you play a chord and, as an example, the flute 4' and the bass volume, it will sound flute 4' on the whole chord plus the lowest note bass: C chord will be: C - E - G of flute 4' plus C bass. If you play G - C - E, the bass will be G. In synth words the bass is low note priority. My opinion about sounds is: Flute 4': Sweet, classic. Strings 4': Electronic, more like a cheap synth. Bass: Less deep than a Farfisa. 16' - 8' - 4' - 2' 2/3: Sweet, Mellow. Piano: an elecronic generated sound, I believe. I never use it.

Minstrel


Aha, the Minstrel surfaces! Thanks to Jacques Stompboxes for the pictures and descriptive info.

Three whole octaves (WAAAAY, more than the puny 2-1/2 I'd previously been told it had)! Four voices, "Bass Chorus", and Vibrato, plus the built-in amp./speaker that seems so common in organs of this caliber.. I suspect those "drawbars" are just on/off switches, just like on the Tigers.
Controls:

Knobs:

On/Off/Command (Volume?), Tone, BC/AC/RE (?)

"Drawbars":

Mellow, Reed, Brass, Flute, Bass Chorus, Vibrato
Micky
Hey Micky! What a great name! Perhaps it was used on Toni Basil's hit song of the same name (after all, there IS a combo organ in it). Who knows?
Anyway, here's the Micky:
Working from a Babelfish translation of the owner's description, it seems it has three voices, Flute, String and Brass, plus Vibrato and 5 rhythms. Looks like probably a built-in amp/speaker, too.
---
Talisman
Here's another beauty from the Melbourne Music site. I can't even begin to compete with their already fabulous description:
– Hoo Wee!!!!!…….right up there in the big family of Cheesey Comestibles, this is seriously KOOL !! All moulded, rounded , kitschy looking with Metallic Teal painted ends, this keyboard looks suspiciously like a Farfisa VIP with a different makeup purse……Sort of a Holden Apollo/Toyota Camry- type of thing. (I can always get these automobile analogies in if I try hard!) Anyway , a veritable feast of brightly coloured drawbar-type tabs await. Apart from the standard Black, White and Ivory, we also have Tangerine, Crimson, Olive, Mustard, Leaf Green, Beige and Smeg Blue. It's worth it just to look at it!! A double manual, the top has 8 Flute drawbars plus further "specials"….Reeds , Strings, Horns etc. A selection of 5 percussion drawbars , ranging from mildly useful to totally useless, operate in a Mono and Poly percussion mode. There's also a Short/Long duration drawbar and even a Repeat mode with speed control….really useful when Faux Banjo is desired. The lower manual has 4 Flute drawbars and 3 specials. Onboard effects complete the picture…….Wickedly Nasty Vibrato, Jangly Spring Reverb, a Sustain section with Celesta/Harpsichord/Kinura w/level and decay controls, and lastly, the Ultimate……Italian Auto WahWah!…..Yessss!!! So what does it actually sound like? Tsk,Tsk! …as if anybody really cares!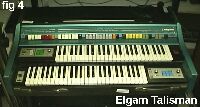 ---
See GEM

---
All I know about Hagström right now is that they made/sold at least one Combo Organ. I saw a flyer for it on eBay, but didn't win it. I'm trying to contact the buyer to get more information (and hopefully, a copy or scan).

---
Best known for their harmonicas and the amazing Clavinet, Hohner made a number of different instruments, including guitars, drums, and various electric piano/clavichord type things. They also made a small selection of combo organs.
Symphonic 30
Symphonic 600

Organetta
You don't see many combo organs in orange, now, do you? This is a real basic model, but includes a mandolin-like Repeat effect.
Controls:
Tabs: Flute, Strings Trumpet, Vibrato on/off, Repeat on/off
Knobs: On/Off/Volume, Repeat Rate
Picture and info courtesy of Palm Guitars, where this Organetta is for sale.
---
Combo Organ (ME0-403)
What's this? ANOTHER orange combo organ? Well, sort of a red-orange, I guess. According to Brad at Melbourne Music, it's Japanese in origin. The two shown here are the only ones I've ever seen.
I won this one on eBay:
Unfortunately, the seller never came through with the goods. Rats!

Controls
Knobs: Volume, Bass, Vibrato Speed, Vibrato Depth, Balance

Tabs: Power, Bass, Flute, Organ, Horn, Oboe, String, Treble Boost, Vibrato
Here's a short review by a happy Hunter owner (comparing it to his Yamaha YC-25D):
"The only voice that's any good is the 'strings' which is nice and fuzzy (esp. with the treble boost on)... not as throaty as a Farfisa but more gritty than any sound I get out of the Yamaha. I've come to appreciate it much more after getting the YC (these 2 being my only combo's) as it's got a unique sound (to my ears anyway) that fits in with the kind of music I make...The vibrato rate knob has a pretty small range going from fairly slow, to a bit faster, but not really fast enough to be of much use to me)"
Thanks to Brad at Melboune Music for the first two pics. The closeup of the controls, was provided to me by the fellow who bought it from them
---
Now these have to take the prize for the cheapest, cheesiest looking combo organs I've yet seen. But then that's the name of the game, isn't it?
For lack of better names, I've chosen to call these "A" and "B". I've seen two basic models of "Porto Organ", in red and black, sometimes with the brand name "Ideal", sometimes "Noble", and sometimes no brand name at all, simply "Porto Organ".
Porto Organ "A"
Controls:
Bass On/Off switch, Volume knob, Voices knob, Treble On/Off switch, Volume knob (or "hi-lo-blaster" on some models).
Voice Switches: Trombone, Reed, Flute, Oboe, Coronet, Violin, Saxophone, Horn, Viola, Diapason.
Vibrato On/Off switch, Full switch, Power On/Off switch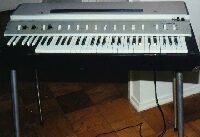 Porto Organ "B"
Controls:
Bass Volume knob, Bass Ext. switch
Voice Switches: Violin, Horn, Oboe, Cornet, Treble
Vibrato On/Off switch, Full switch, Power On/Off switch
The one on the left is a "Noble". On the right is a "no name"
---
---
Kawai/Kingston
Kawai CHZ1 (does that stand for "Cheezy, model 1"?) on the left, a pair of Kingstons in the right. Except for the bass octave and the 4-way bass switch to the left of the keyboard, it looks like the same organ. These are similar in many ways to the Teisco's. The controls on these are virtually identical to the Teischord B and B2 (if you consider that Wood/Clarinet, Brass/Trumpet, Reed/Sax are all equivalent voices), and the 4-way bass selector is identical to the one found on several of the Teischord models. Also, according to the Keyboard Museum, the Teischord B2 was made by Kawai.
Controls: Switches: Vibrato, Flute, Wood, Brass, Reed, String. Knobs: Vibrato, Balance, Loudness. 4-way bass switch on the left.
Kaway CHZ1 picture courtesy of Melbourne Music
---
Well, aside from the CX-3, which isn't really a Combo Organ, I didn't know Korg made anything like this. But apparently it was one of their first products. Korg was started in Tokyo by Tsutomu Katoh and Tadashi Osanai. They formed Keio Electronic Laboratories, the name Keio coming from a nearby railway line (and also it contained the initials of their last names). In 1967 they hired an engineer named Fumio Media to design a keyboard that they could sell, and 18 months later, he delivered a prototype. Apparently it featured some measure of programmability of the voices. They sold 50 of these under the name Korg, which was a combination of the words "Keio" and "Organ" (an un-substantiated rumor has it that the name "Korgan" was rejected as meaning something inappropriate in Japanese). To read the whole story (which I have distilled here), go to the Alta Vista translator , and use it to translate the Korg web site referenced below.
Supposedly, Merson-Unicord began distributing Korg synthesizers at some time during the 70's, and at some point they must have just disappeared and "became" Korg.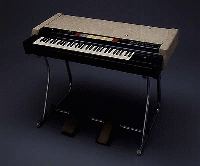 Picture courtesy of the Italian Korg web site
---
Combo Deluxe
Formerly know as "Blair's Combo Deluxe", now identified as the "LEM Combo Deluxe". Three of these were purchased in apparently new condition from the same music store in NJ in the early 90's (but none of them had the "LEM" nameplate). The serial numbers were followed by "/86", which might indicate a manufacture date of 1986. The owner of the one pictured here believed it to be manufactured in the 1980's. If this is true, it may be the last true Combo Organ ever made. The LEM brand, (Laboratore Elettronica) name was introduced in 1968 by the huge "Generalmusic" congolmerate in Italy
Controls:
Top Row Tabs: Perc. Coupler, Legato, Tremolo, Mellow, Brass, Bright
Bottom Row Tabs: Vibrato, Chords/Bass, Horns, Strings, Reeds, Flutes.
Knobs: Vibrato Time, Percussion Time, Bass Volume.
---
Lincoln Research model 179. Well, that's what the seller found on one of the circuit boards of this otherwise unidentified organ.
Controls:
Buttons: Rotary Sound: On/Off, Light/Heavy, Fast/Slow, Sweep: On/Off, Sustain: On/Off, Short/Long
Extended Bass Options for 17 bass keys C to E?: Bass/Sharp, Bass/Percus
Organ: 16' Flute, 16' Reeds, 8' Flute, 8' Horns, 4' Flute, 4' Horns, 2' Strings, 1' Flute, 1' Jazz
Percussion: Echo On/Off, 16' Percus, 8' Percus, 4' Percus, 2' Percus, 1' Percus, Short/Long, Repeat On/Off
Effects: Piano, Honky Tonk, Clavi-Chord
Volume Sliders: Organ, Percus, Piano, Bass
Repeat
(Thanks to Arvid for this information)
---
I don't know anything about this one, but I did hear from it's owner. Thanks to Takeshi at Piece Design for the picture. Unfortunately, he has no more pictures, and the organ has been sold <sigh>.
---
---
Phillips Phillicorda/J.C. Penney
Moved to it's own page - click here go go there.
---
Well known for their electronic pianos, even RMI made a combo organ - two, in fact - the Explorer and the Lark. Both of these are covered quite well by the SynthMuseum, so I'm not even going to bother trying to add to what they've done. In over two years of watching for Combo Organs, I've never seen or heard of either of one of these, outside of the SynthMuseum and Audities, so they must be fairly rare. Click on one of the following links to go directly to the SynthMuseum's coverage of these organs.
While you're there, check out the other RMI's as well.
There's also a tremendous article on RMI by Barry Carson at Audities. He discusses the Lark and Explorer, as well as a few other models, including the amazing Keyboard Computer - sort of a Combo Organ on steroids. There are also some excellent pictures of Barry's Keyboard Computer.
---
B-1000
This is is - one picture. No other info. Enjoy!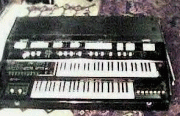 Drawbar Organ
This one was submitted by site visitor José from Portugal. It will probably wind up in my "Wanna-B" page if I ever get it going.
Features:
15 drawbars with overdrive, click and decay
3 presets (Church, Jazz, Theater)
Phasing ( Leslie ) off, slow, fast
Manual Bass
Controls for Tune, Bass Volume, Organ Volume
Outputs: Power connector, Exp. Pedal, Low, High
Weight: 25 Kg
José says it sounds more like a Hammond than a combo organ.
---
Moved to it's own page - click here to go there.
---
TO200
I saw this one on the Vemia Virtual Auction I understand that "Weltmeister" translates to "World Champion" or something like that.
Here's the description from the auction:
Rare DDR combo organ, VEB Klingenthaler Harmonikawerke. 5 octaves, Bass, Bass Clarinet, Clarinet, English Horn, Nasal, Salicional, Strings, Quintel, Piccolo. 16' 8' 4' 2 2/3' & 2' switchable. Switches for vibrato shape/intensity, repeat, percussion, reverb intensity. Mix 1 to 4 buttons. Percussion and repeat buttons. Stand built-in. Knee controller. s/n 1-1431.
Dig those "quadrant faders" (I think that's a UK term).
---
Comet
I still don't have too many details on this one, but did hear from a previous owner of a Comet:
"I also have had the WERSI Comet but I think it isn't a Combo Organ, it's an Organ from the German firm WERSI which was build on a case(console?), the picture on your site shows a portable Comet, normally it's only a non-portable organ. Also the sound is not very good. You have many options, also a very good rhythm and sound computer but overall the sound is bad. Instruments like the "Sinus Sound" and Trompet, Piano and many others, it's an orchestral organ I think, and was built at the beginning of the 80´s"
---
Telstar
No relation to the organ used on "Telstar" (That was a "Univox"). This came from a 1965 WEM Watkins catalog. (click on the picture to see a full description). WEM was quite well known for amps, PA equipment and the "Copicat" echo unit in the UK during the 60's. All I know about this organ is what you see here. Thanks to Eric at Boss Guitars for this picture.
WEM has a web site now, at www.wemwatkins.co.uk but there's no mention of the Telstar, and they state up front that they don't want any questions asking about old gear - too bad. Still, it's very interesting reading about the history of WEM and Charlie Watkins' impressive contributions to the sounds of the day.
Teischord C
This one looks to be just a Teisco Teischord C with a WEM badge on the back. The top panel even says "Teischord C". I asked Charlie Watkins about this one, and he has no recollection of it. The other Teischords say "Manufactured by WMI" on the back panel, but WMI is not related to WEM (i.e., it doesn't stand for "Watkins Musical Instruments". I guess this was just a short-lived by WEM to make another entry into the combo organ market. For more information on this, go look at the Teischord C.
---
7300
Controls: On/Off Switch, Volume knob, Levers: 16', 8', 4', IV, M. Buttons: Vibrato, Brass, Strings, Reed, Solo
The sound and function of the levers correspond almost identically to the Vox Continental. The Foundation tone (the "sine-wave" drawbar on the Vox) comes when you pull out any of the first four levers, unlike the Vox which has a separate drawbar for this tone. The "M" tone is controlled by the lever, just like on the Vox.
Here's a pretty good description from the owner of one:
"This Wurlitzer Model 7300 60's combo organ is very similar to a Vox Continental in styling and tone, but lighter (about 32 lbs.) and more compact (36" long x 14" wide x 5" deep) due to its integrated circuits. It is all black with Wurlitzer printed across the front, has 49 keys, preset pushbuttons (vibrato, brass, strings, reed, solo) similar to a Vox Jaguar or Farfisa Mini, and drawbar type stick controls like a Continental. The presets/drawbars can be used separately or "layered". The "reed" preset when boosted by the "solo" button gives a somewhat Hammond type percussion effect. Tone is fuller and richer, more like an English than Italian Vox Continental in my opinion."